I forgot to post this at the time – so here it is. I'd still say the same things … so this is what happened when Ben rolled the dice
'What I've seen of death, someone – or something – comes to get us'
Each week, Benjamin Law asks public figures to discuss the subjects we're told to keep private by getting them to roll a dice. The numbers they land on are the topics they're given.
The Hobart-based author won both the Stella and Christina Stead prizes in 2017 for her seventh novel, The Museum of Modern Love.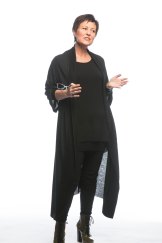 POLITICS
How would you describe yourself politically?
I'd say I'm a Blue Green.
What's a Blue Green?
Green is someone who cares passionately about the environment, social justice and for the long-term good of humanity and the planet. Blue is for the old-fashioned liberal values of egalitarianism, economic growth – not, however, at the expense of the quality of human life.
What party represents those values?
There isn't one. I always find myself appalled by how we seem to have arrived in the 21st century with a world that is so deeply unjust to the great majority.
Does it make it hard for you as a voter?
Completely, but I always vote Green. You have to vote for the planet and human rights.
Where do you think you get your politics from?
My father is a Labor voter and my mother is a Liberal voter. Bizarrely, I grew up in Hobart equidistant between neighbours who've gone on to both become senators: one in the Greens, one in the Liberal Party. I've ended up in a world where I'm much closer to my Green colleagues, but I'm not a pure socialist: I think everybody deserves to benefit from personal endeavour.
Could you date someone with fundamentally different politics to yours?
[Laughs.] Maybe not.
MONEY
Was money a fraught thing for you, growing up?
Both my parents worked to put my sister and I through private school. No one in my family had ever got a degree, so education was really important. However, it was tight. My parents were really smart about caring for money. We didn't go on holidays – we didn't have that kind of income – so we lived very simply. My grandparents built a shack for us on the Tasman Peninsula, so we spent holidays there. Other than that, we went camping. Camping is my idea of money well spent.
Do you feel like you've been good with money?
I'm good at making money and making a business profitable. [As well as penning seven novels, Rose has run advertising agencies, sat on arts and corporate boards in her home state and founded a luxury accommodation business in Hobart.] In my personal life, I'm very good at saving. But I'm also very good at spending; I really love beautiful clothes.
What do you consider a waste of money?
Nights you never remember! A lot of designer stuff to me is excess, in a world where we need to have better priorities. There's a gluttony to the world of the designer that I find really abhorrent.
What constitutes the "beautiful clothes" you like, then?
Beautifully designed, beautiful fabrics. It doesn't have to cost thousands of dollars. I have one designer I absolutely love: Alistair Trung. He's my absolute go-to. His designs are magnificent, his fabrics beautiful.
You have three children. Have you ever sat down with them and said, "This is how you save money"?
I've given each of them a copy of George S. Clason's The Richest Man in Babylon. It's all about being respectful of your money, making sure some of it is saved, some of it is put away for everything you need to live on. So with my kids, when they got pocket money, I would say, "Even if you're getting $10, $1 of that you have to save." Great: you're teaching them fractions at the same time. Indeed!
DEATH
You're 53. How would you like to die?
I want to die very old, in a really warm chair, with a good blanket. My hair is white. My children …
You've thought about this!
I have! I saw it recently: my children, grandchildren and great-grandchildren are somewhere about. I'm in a house with glass windows and the sun's coming in. Someone in the house really loves me, especially, particularly and deeply. It's afternoon, and we've just had some beautiful celebration. Possibly my 104th birthday. And I close my eyes.
And that's it.
Yep. That's a pretty great death.
Do you fear death?
Not at all.
Why not?
I've nearly died several times.
Really? How?
Heart problems. And I've been quite reckless as well, in my life, when I was younger.
In what ways? Or, in what ways can you share?
It's going in the memoir. [Laughs.]
What happens to us when we die?
I think we go on. My sense is we have a soul. I know Christopher Hitchens would be cross with me for that.
Does that matter?
Yes! I feel like he's still out there.
Well, if what you're saying is true, he is.
I feel there is some mystery that is absolutely evident to all of us on this planet. It's either that we get recycled and we come back in another life. Or that we live all these lives at once because time is completely an illusion, like physicists remind us. Or we get reabsorbed into the magnificence. I don't know. But from what I've seen of death, someone – or something – comes to get us. And if something comes to get us, then there's something beyond.

Writer, author of The Family Law and Gaysia.